back
Marketing Approval for Ulcerative Colitis Treatment "RECTABUL® 2 mg Rectal Foam 14 Doses" was Obtained in Japan
Kissei Pharmaceutical Co., Ltd.
EA Pharma Co., Ltd.

EA Pharma Co., Ltd.(President & CEO, Yuji Matsue; Headquarters, Chuo-ku, Tokyo)(hereinafter "EA Pharma"), a subsidiary of Eisai Co., Ltd. for the gastrointestinal disease area, and Kissei Pharmaceutical Co., Ltd. (Chairman & CEO, Mutsuo Kanzawa; Headquarters, Matsumoto City, Nagano Prefecture)(hereinafter "Kissei") announced today that EA Pharma has obtained marketing approval for "RECTABUL® 2 mg Rectal Foam 14 Doses", an ulcerative colitis treatment agent, (Development code: AJG511, hereinafter "this product") in Japan.

This product is an in-licensed product of EA Pharma from Dr. Falk Pharma (Germany). EA Pharma and Kissei have jointly developed this product for the Japanese market.

Ulcerative colitis is a kind of inflammatory bowel disease. In ulcerative colitis, ulcers develop in the colonic mucosa, with and symptoms including abdominal pain, diarrhea and hemorrhagic stool, leading to a marked decline in QOL (quality of life). In Japan, ulcerative colitis is designated intractable disease by the Ministry of Health, Labour and Welfare, and it is estimated that at least 170,000 people suffer from the disease in this country.

This product is the first foam product for rectal enema (rectal foam) in Japan. Since the dosage form is a foam, the drug stays in the rectum and the sigmoid colon after reaching them, and leakage after administration is avoided. In addition, this product is a locally active steroid and, thus, is expected to reduce steroid-related systemic side effects.

The above marketing approval is based on the studies including a PIII double-blind placebo-controlled clinical study in patients with active ulcerative colitis conducted in Japan with the primary endpoint of mucosal healing rates* measured by endoscopy at 6 weeks of rectal administration of this product twice-daily. The PIII clinical study demonstrated the superiority of this product to placebo.

EA Pharma and Kissei will distribute this product under the same brand name in Japan. With this product, the two companies will strive to make further contributions to increasing the QOL of patients and to respond to the need for easy-to-use and safe locally-active treatment of ulcerative colitis.
End

*Mucosal healing rates: The rates of patients in whom the colonic mucosa became normal or the disease was observed to be clinically inactive.



《More Information》
■ "RECTABUL® 2 mg Rectal Foam 14 Doses" Product Outline
| | |
| --- | --- |
| Brand Name | RECTABUL® 2mg Rectal Foam 14 Doses |
| Non-proprietary Name | Budesonide |
| Date of Marketing Approval | September 27, 2017 |
| Manufacturer and Distributor | EA Pharma Co., Ltd. |
| Distributor | Kissei Pharmaceutical Co., Ltd. |
| Indication | Ulcerative colitis (except severe cases) |
| Dosage and Administration | The normal adult dose is one push (2 mg of budesonide) per dose, twice-daily, by rectal enema. |


【Product Picture】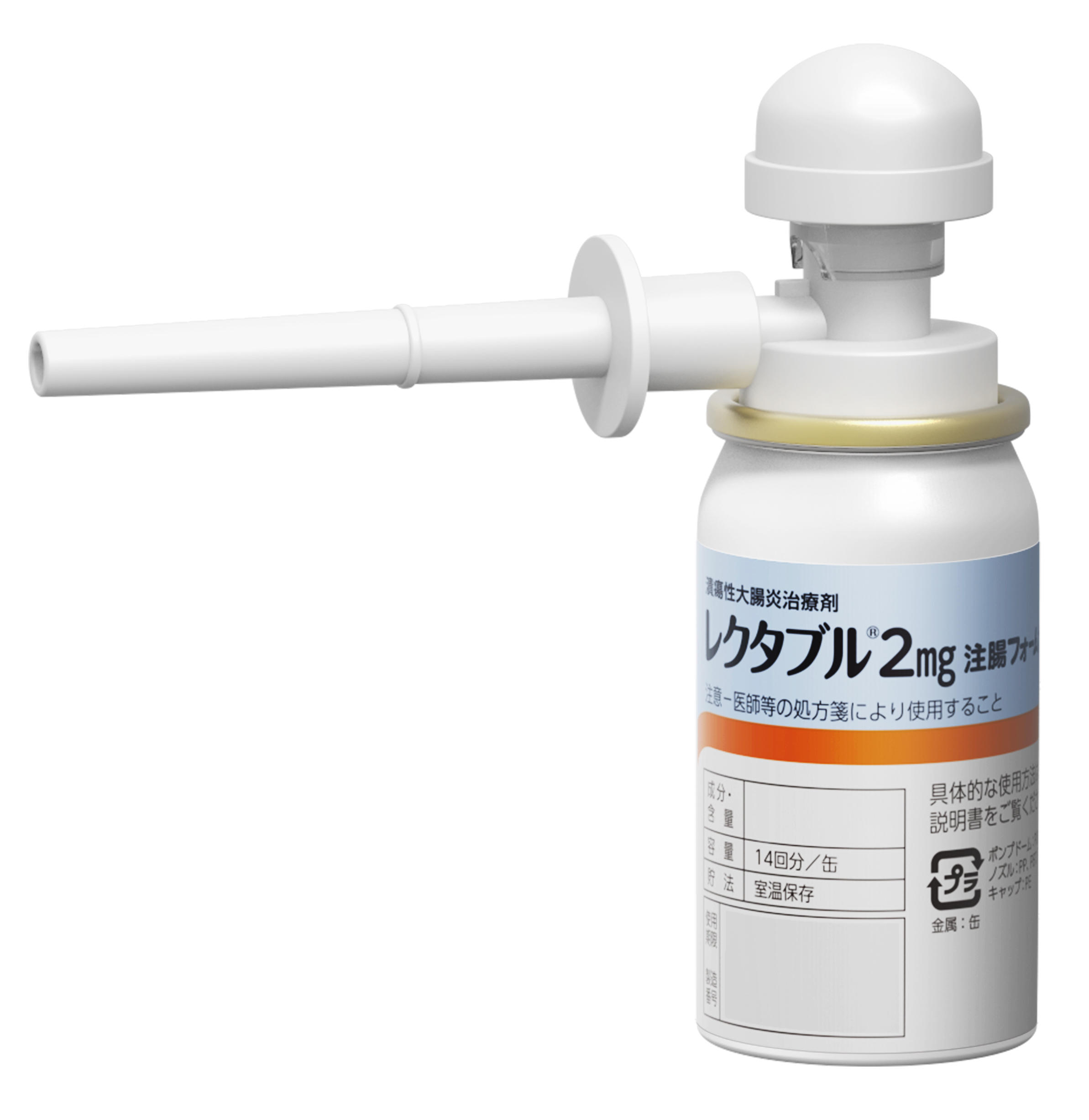 "RECTABUL® 2 mg Rectal Foam 14 Doses"
The bottle with the applicator mounted


■ About Dr. Falk Pharma
Dr. Falk Pharma was established in 1967 and is one of the leading European pharmaceutical companies, specializing in gastroenterology and hepatology. Dr. Falk Pharma globally sells "Salofalk", "Budenofalk", "Ursofalk", "Mucofalk" and other products. The more than 200 international symposiums and workshops that Falk Foundation e.V. has supported for 45 years and longer have attendance of opinion leaders from at least 100 countries in the world and contribute to increase of knowledge in treatment of gastrointestinal and liver diseases. For more details of Dr. Falk Pharma, please see http://www.drfalkpharma.com/start/neu/?L=1