Compliance Promotion System
Kissei has established the Compliance Committee to optimize compliance promotion, implement the Compliance Program, and serve as an advisory body to the Board of Directors. The committee is chaired by the department manager of General Administration Department and is composed of managers from each division. It discusses and determines a specific implementation plan for the Compliance Program for each fiscal year. Once this plan has been determined, the CSR Promotion Office (which serves as the compliance department), the division managers (who are in charge of compliance promotion and are also members of the Compliance Committee), and the Compliance Promotion Supervisor develop and conduct specific activities for compliance education and understanding.
In addition, the Kissei Group engages in Groupwide compliance practices led by compliance officers appointed by each Group company. The Kissei Group Compliance Officers' Meeting is held regularly, during which these compliance officers share implementation plans, report results, and exchange information. At these meetings, officers also receive education and training.
As a member of a life-related industry, the high ethical standards demanded of the Group are a given. However, if we can commit to not only complying with the law but also maintaining these high ethical standards and fulfilling our social responsibilities, we stand to gain a greater degree of trust from society, which is true for Group companies as well. Therefore, we are working to practice compliance on a daily basis with this goal in mind.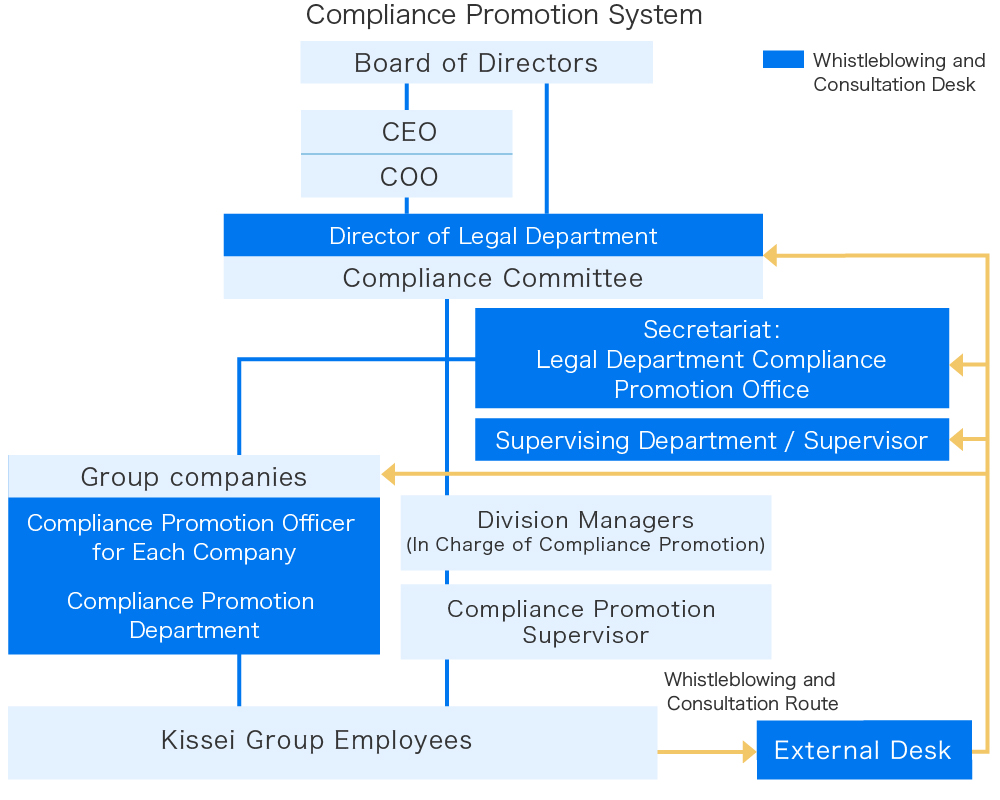 Whistleblowing and Consultation System "Kissei Hotline"
In response to amendments to the Whistleblower Protection Act (Act No. 51 of 2020), the Kissei Group has established the Kissei Hotline, its whistleblowing and consultation system. The goal of the Kissei Hotline is to protect whistleblowers while preventing the violation of laws and regulations within the Group, as well as any damage or losses that could result from these violations. Moreover, the hotline serves to heighten self-regulation among Group companies. Officers, employees, and retirees can file a report or consult with an external contact independent of the Company regarding legal violations or harassment within the Group. The external contact can be reached by phone, email, sending a physical document, or via a dedicated website. Furthermore, users of the hotline can opt to remain anonymous, in which case the Company will not know who is filing the report.
Compliance Promotion Activities
Continued compliance education and training is essential to firmly entrench the importance of observing the law and internal regulations as well as corporate ethics, and to ensure that all officers and employees fulfill their responsibility toward proper compliance. The Company provides rank-based education to officers, division and department managers, newly appointed managers and supervisors, and new employees. In addition, employees also receive education and training for work directly related to their duties, covering the Pharmaceutical and Medical Device Act and guidelines regarding the provision of sales information for pharmaceutical drugs. Additional focus has been placed on the topic of harassment, an important issue for companies with the growing awareness of different forms of harassment in recent years.
Other efforts to raise employee awareness regarding compliance include regular messages from top management, and the Company's Compliance Program Manual, which is distributed to every employee and serves as a guide to daily activities and conduct for ensuring proper compliance.
Compliance Status Questionnaire
Every year, we conduct a Compliance Status Questionnaire targeting all employees. This questionnaire allows employees to check their level of understanding, while allowing the Company to confirm whether proper compliance is being carried out, and work toward even more thorough compliance practices. The response rate to the questionnaire has remained high since it was introduced in 2005, with the response rate in fiscal 2021 reaching 96.9%.
The results of the questionnaire are collected and analyzed and then feedback is provided to each division and department, which the Division Manager in charge of compliance promotion, the Compliance Promotion Supervisor, and other persons in charge use to provide appropriate compliance education to employees.
Going forward, we will continue to utilize these questionnaire results and improve our workplace environment while striving to raise awareness of compliance further.